---
. . . 40 Days Meditation Observance . . .
The Forty Days Meditation Retreat is an opportunity for powerful self-transformation and grace. An intensive period held each year on the anniversary of Sri Vasudeva's spiritual awakening, we observe forty days of self discipline and with a guided daily meditation practice, messages and sacred conversations.
Every year, the same space is re-created and the same spiritual discipline is kept as it was during the magical 40 Days of 1978 when Sri Vasudeva made his final journey to spiritual freedom. As he says: "an old self was disappearing, a new being was changing… This human being was able to experience a new consciousness inside the human body, renewed. In 1978, I can say that I was reborn. The deathless 'I' came alive."

For the sincere seeker, it is the Grace of tremendous life changing experiences, transformative experiences - shifts in energy and consciousness.

If we can really appreciate the discipline during these days, we will feel the effect of discipline. The forces of the Universe will come together to make our noble wish come true.

Embrace the opportunity of these sacred days to take a leap in the consciousness and make the next step on our journey to freedom in the consciousness space. Sri Vasudeva will guide us through a series of 40 talks and meditations focused on centering in the soul consciousness and learning to masterfully drive the human experience.
---
. . . Meditation . . .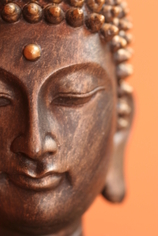 Meditation is learning to center in the consciousness space, in the space of your true reality. It is learning to connect with the source that created the universe, which is our higher consciousness. Our nature is consciousness, not matter. Consciousness, not energy, we emanate or generate energies, but our nature is consciousness. That very awareness is expressing to you. There is a field of awareness, like the screen on which the movie is projected, when we had the days of projectors. It is like the canvas on which the painter paints. It is like the pages on which the writer writes. It is the very screen on which everything takes place. That is consciousness. And you are that! But you do not realize that.

Meditation does not belong to religion. Meditation is simply the art of going within, centering within in our consciousness and staying there, operating from that space in the human experience. Meditation is about transforming the consciousness, lifting the consciousness to higher levels, manifesting more and more of our true potential as spiritual beings in the human experience. This is not about religion; this is about the human experience.

Every day, we have a fresh opportunity to become anything that we want to, to lift our consciousness, to experience a higher state of consciousness, and to bring more energies from the inner space into the outer. That is the opportunity we have in meditation. Meditation is not an exercise of sitting down and shutting off the world and getting into some passive state where we are disconnected from everything. No! Meditation allows us to supercharge our being. It allows us to go into the depth of our being, supercharge our being at every level and prepare us for a new day, a day of manifesting a higher consciousness in the human experience, a day of getting the most out of the human experience, a day of sporting as a play in the human experience, fulfilling the purpose for which we came into this human form. That is what meditation is. As you go deeper within and connect with deeper levels of your being, you are actually touching the Universe around you in profound ways. How can you ever call that isolation? In fact, it puts you in greater touch with the Universe, even though you are sitting with eyes closed and having an inner focus, an inner view of being. So it brings exciting possibilities of starting every day.*
---
---
. . . Satsang . . .
Satsang is of sanskrit origins translating as being in the company of the 'highest' truth. The journey of satsang is an inner one. That is why it is not just about listening via the voice but it is opening up your being to communicate with a higher self inside. To communicate with those outside of you from that space of the higher self. What Higher Self means, it is that extraordinary place inside where we feel love beyond the human, physical and conditional love. That love that makes us want to sacrifice our selfishness in service to people; that comes from a special place – the spiritual being, the higher self. It is that place where we feel peace beyond the silence, like waves of energy coming out of our being. Where we feel the peace is beyond the physical body and that our peace can spread into the space around us. That is Higher Self. That Self that makes us want to unite with others, to create harmony and peace in a space. That is Higher Self.

Satsang is a time to make connection with that inner God. First of all, can you appreciate the idea that God can be in you? We think so poorly of ourselves. We think we are not worthy 'God cannot be in me because there is hatred in me', that is only in your mind. If you clear the mind, you will be able to appreciate the God inside. The more pure you make the mind, the more clear you make the mind, the more you will realize that there is some kind of divine presence inside of you.

Satsang is a journey from lower self awareness to higher self awareness. It is journey inside our being. It allows us to connect with those around us who also live in the Higher Self. It is journey to what we call God. 'What' we call God, not who. God is beyond the 'who'. God is beyond gender.

The journey of satsang is the journey of grace, it is a journey of tapping into that Field of infinite supply, of infinite energy, of infinite being, that Field in which we all exist. Let us give attention to that Field, that Field of grace and that Field of support. We do so in a traditional way, in a way of prayer, in a way of supplication, in a way of asking for support. We use the power of religion. Though religion may tend to divide us, but religion also has a very powerful practice that can open up or spiritual consciousness. At the heart of religion is the idea that there is a Greater Power in the Universe that we need to respect and which we need to seek support from."**

---
. . . Yoga . . .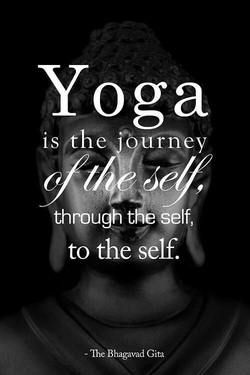 The great sage Patanjali defines yoga as the restraint of the modifications of the mind. Hatha Yoga is a method of cleansing and bringing the mind under the control of the will through physical postures. The body is used as a tool to control the mind and work the pranic body. In each posture the objective is to smile to demonstrate mastery over your moods and to attain the three dimensionality of breath, and relaxation of body.

Hatha is a Sanskrit word which has different levels of meaning corresponding to different realisations of our reality. At the grossest level it means a gentle forcing of old habits out of the body and new ones in. When we understand where the gentle forcing comes from, we move from body awareness to cosmic truth – universal energy fields: Sun and moon. As we cognise our physical relationship with the universe our understanding shifts, taking us into deeper levels of realisation. The physical fits in with the philosophy of Yoga by drawing the attention from the grosser parts to the finer parts: First to witness our posture from head to toe – sitting, standing, walking, in every moment. This is the beginning of mind-fulness. Then working deeper - the sensation on the scalp; the forehead; feeling subtle energies throughout the body; the organs in the body; how one feels before and after eating. The experience of anything gross is a pointer to something finer and less visible.

Hatha yoga develops this sensitivity – outer, inner surfaces, organs, and energetic responses. It helps us to become aware of our posture and how the gross impacts and inhibits the finer i.e.: physical posture impacts on internal organs which impact on the flow of energy. Hatha yoga means becoming increasingly conscious from one level to another. The only way you will understand Hatha Yoga is if you understand physical yoga as a preparation for spiritual liberation, this is why hatha yoga is practiced in its purest form.

When you are holding a yoga posture, observe what the mind is doing: is it grumbling at having to hold the position? Does it want to go back to bed? When you gently exercise your will over your mind and attain the three dimensional effect, you are training the mind to remain calm, the breath to remain slow, and the body to remain relaxed in any stressful situation you might encounter in life. Not only are you developing a good physical posture but you are developing an inner posture as well. You are learning to go to your edge and then go that little bit further, so when someone pushes you to your limit; you will find you can go that little bit further in tolerance, peace and love.

Health Benefits
We are multi-dimensional beings (physical, mental, emotional and spiritual) and therefore Yoga's impact on our health is much more than just physical. Yoga works on creating a harmonious relationship between all levels of our being, which ultimately helps to restore us to a better state of health, sense of well-being, and balance. Hatha yoga was developed by Yogis thousands of years ago as a way of counter-acting the effects of the many hours spent sitting still in meditation, and ultimately as preparation for spiritual liberation. These asanas (yoga postures and movements) gave these Yogis a way of exercising their bodies and maintaining their health, with the least amount of effort, time or stress - while still being able to pursue their ultimate and primary goal of self-realization.

These asanas enabled all muscles and soft tissues to be stimulated and strengthened, and all internal organs to be massaged. Pranayama (breath control) was developed as a way of oxygenating the body while at the same time eliminating un-wanted toxins. Asanas along with pranayama stimulated the circulatory system as well as all other systems of the body allowing for optimal health. Thus, today Hatha Yoga is also practiced for the physical health benefits that it provides, and has been proven extremely effective for various disorders.

---
---
. . . Retreats . . .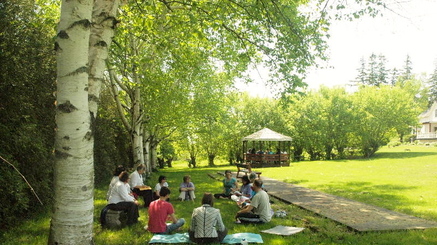 Northumberland Heights Retreat Center
Sri Vasudeva
's life is a living testimony to the ancient sciences of Kundalini and Yoga; his teachings are rooted in it and his goal is to bring ancient wisdom into modern thinking in a practical and purposeful way for the betterment of our world.
Sri Vasudeva
feels that Kundalini is the basis for all spiritual experiences and that spirituality is the essence of everything and is not limited to the domain of religion. The spiritual centers (chakras) are invisible parts of our energy anatomy that affect every aspect of life. Without knowing about them and consciously working to develop them it is like handing powerful tools to a child, which is the consciousness state of most of humanity. He feels that ignorance of our inner reality greatly contributes to the suffering and strife in our world and that an enlightened society would do a great deal to eradicate these evils….and that we would all be happier, healthier and wiser if we act in the human experience from a space of enlightened consciousness.
His teachings are like those of Jesus Christ, Buddha…individuals who did not start religions themselves but who passed on great truths validated by their own experience of the world.
He has been traveling around the world since 1996 giving powerful workshops, counseling, and coaching those who are interested in self transformation. Each year we hold several retreats with Sri Vasudeva who guides us through a weekend of self transformation. Whether you are beginning your journey or are deep in your own spiritual discipline, a weekend in the Northumberland Hills, settled into the peace of nature allows you to steep in the teachings and develop your own powerful practice.
---
---
*Global Meditation Initiative 2012 - Thursday July 19, 2012
**Satsang, Sri Vasudeva: Saturday January 22 & 29, 2011